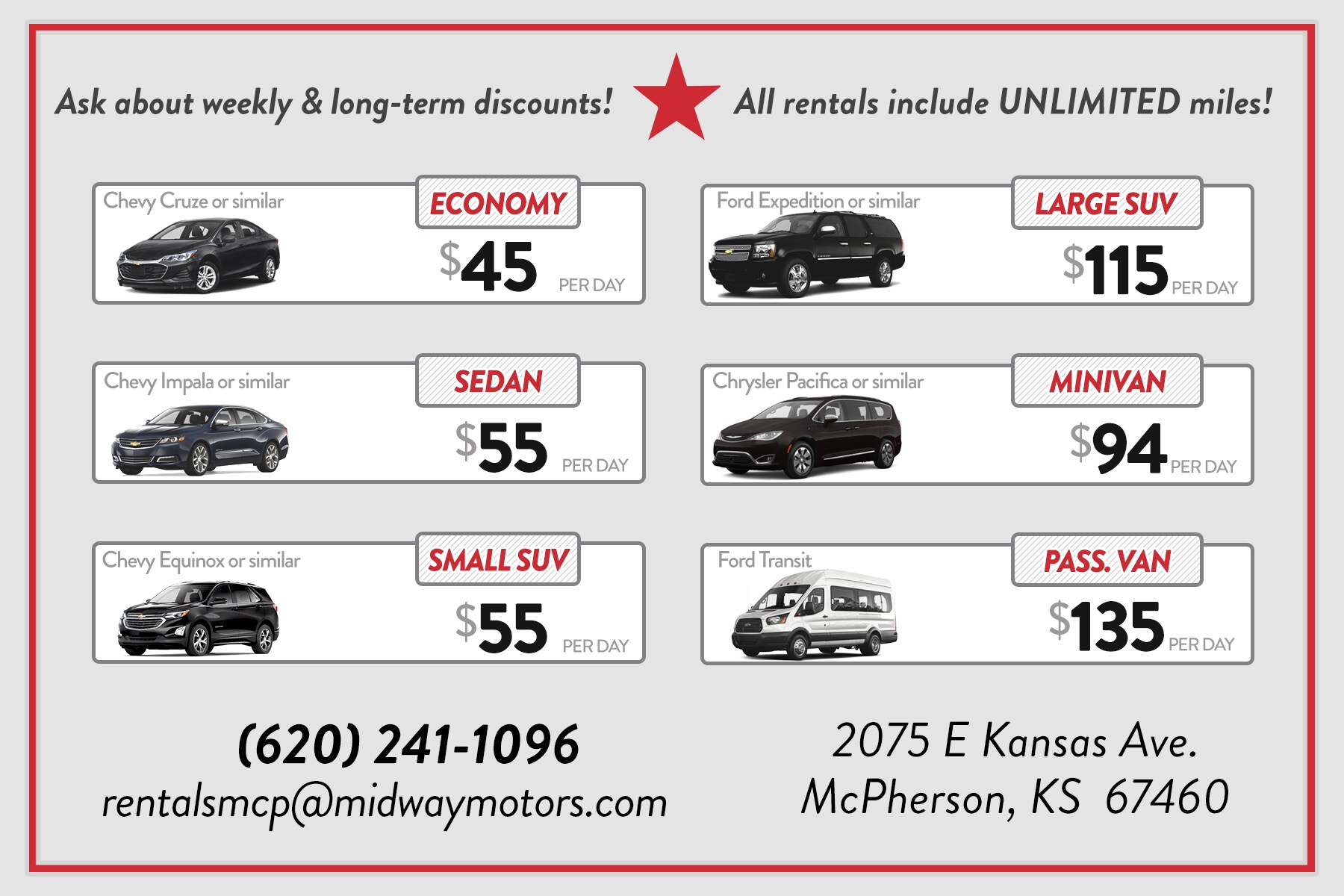 McPherson Car Rentals, Salina Car Rentals & Hutchinson Car Rentals! Midway Motors
Midway Motors offers an extensive fleet of late model car rentals as well as suv rentals and van rentals to accomodate groups up to 15 passengers! 
From economical compact cars for gas savings and city driving to large suv's capable of comfortably taking your family and luggage on an extended vacation.  Our 12 and 15 passenger Ford Transit vans are perfect for group outings with your church, wedding party or any time you might need to transport a large group.
Whether you are on a business trip and need to get to Wichita for a meeting or seeing family for the week and would like to have the freedom to explore, Midway Motors' rental service is here  to help with an affordable rental car to fit your needs. Our rental car manager is available to discuss availability and pricing when you are ready to book.  Please feel free to call, click or stop by and check out the newest service available at Midway Motors in McPherson Kansas.
Possibly looking for a new vehicle? We believe that this program is an economical way to try a vehicle before you buy it. Taking a vacation soon and looking to upgrade to a large SUV?  Why not rent a Ford Expedition or a Chevy Tahoe and put it to the test with a long roadtrip to see relatives, or see how the new Ford Ecoboost motor accelerates through the Colorado Rockies.  We feel that this is just another great way to get your hands on, and really try out something you might be interested in purchasing down the road.  
We aren't a nation-wide rental car chain, we care about our customers and their safety.  That's why all of our rental vehicles have been through our rigorous safety checks at our onsite service center.  We feel confident that you will enjoy your rental car experience and will notice a big difference when dealing with our staff.  We look forward to speaking with you and taking care of your rental car needs!
Vehicle

Daily Rate

Weekly Rate

Economy:

$55 with Unlimited Miles

$330 with Unlimited Miles

Full Size:

$65 with Unlimited Miles

$390 with Unlimited Miles

Small SUV:

$70 with Unlimited Miles

$420 with Unlimited Miles

Minivan:

$125 with Unlimited miles
$750 with Unlimited miles

Large SUV:

$125 with Unlimited Miles

$810 with Unlimited Miles

Truck:

$145 with Unlimited Miles

$870 with Unlimited Miles

Passenger Van: Ford Transit (12 or 15 passenger)

$165 with Unlimited Miles

$990 with Unlimited Miles




*Driver must be at least 25 years of age, carry a major credit card and have full coverage insurance.  Rates and availability of vehicles are subject to change.  Additional mileage is 20 cents per mile. $500 dollar deposit required on all rental transactions.  Towing is not allowed with any of our vehicles.